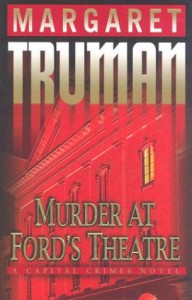 Murder at Ford's Theatre
Written By: Margaret Truman
Published by: Ballantine Books
Murder at Ford's Theatre
This is a story about the murder of a young female intern of U.S. Senator, Bruce Lerner. The intern, Nadia Zarinski, was found in the alley behind the Ford's Theatre. "Cause? Subdural and subarachnoid hemorrhages. Manner or death? Blow to the head with blunt, broad object."
Ms. Zarinski has been rumored to be having an affair with the senator. The senator is ex-husband of Clarise Emerson, the theatre's producing director. The case is assigned to Rick Klayman and Mo Johnson, detectives from the Crimes Against Persons Unit, of the MPD.
The senator and his ex-wife are both career oriented, him wanting to run for president and her currently under consideration for the director of the NEA. It does not help when their son, Jeremiah, who had a sexual relationship with the intern, is charged with the murder.
The book was well researched as far as history of the Ford's Theatre and the assassination of President Abraham Lincoln. There were a couple of mistakes in the author's police procedural knowledge and a couple of streets were incorrectly names. Otherwise, I enjoyed to mystery.
This book is part of the Capital Crimes series written by the author, the daughter of President Harry Truman.